If you are interested in applying to be a stallholder at Horsens Medieval Festival 2022, please contact the festival office at bodholder@horsens.dk with questions you may have.
Our terms for stalls and camps
At Horsens Medieval Festival we are passionate about our authenticity for reviving the Middle Ages. In order to participate in the Festival, your stall or camp must represent a trade stall or field camp from the Middle Ages period 1350-1536. Your stall or camp must therefore not contain modern props and materials or goods from the Viking Age.
Please read our Terms and Conditions here before signing up. 
If you are interested in applying to be a stallholder at Horsens Medieval Festival you should let us know no later than March before the festival. 
You apply by sending a mail to bodholder@horsens.dk
It is free to participate as a craftsman at Horsens Medieval Festival, if your primary activity at the Festival is the demonstration of crafts and the involvement of the audience. If you want to participate as a craftsman, you should write it in your application. Once we have received your application, we will contact you to hear more.
Please include the following information in your application:
We should like to know
The association / stall holder name.
Contact information.
VAT registration number or Social Security Number.
The quantity and size of your tents and/or stalls. It would be useful if you can attach a sketch of the layout of your space.
Do you need to rent stalls from the Festival organisers?
Do you need access to electricity? How many watts do you need? Please specify the electrical appliances you have?
Will you have a bonfire? Will you use barbecue or gas? Please including the quantity and sizes.
Will you sell food and drinks? Will you offer activities? Please include specifics, pictures and source material.
Do you want to stay overnight in the booth? if yes, how many people?
Do you have plans to sell or carry weapons during the Festival?
Please fill in the information as detailed and accurately as possible. We use your information for the layout of the Festival site and for information in the Festival's program.
Food stands
Pitch, food and drink with alcohol license
7.000 DKK
Pitch, food and drink without alcohol license
3.000 DDK
Trade stalls
Stall with merchandise under 30 m2
1.200 DKK
Stall with merchandise over 30 m2
2.000 DKK
Stall with merchandise with alcohol license, under 30 m2
3.000 DKK
Stall with merchandise with alcohol license, over 30 m2
4.000 DKK
In addition, you may be charged various additional services for e.g. establishment of water, pump well, electricity, etc. If you do not clean up or do leave garbage, we reserve the right to charge you an additional fee of DKK 1,000.
Stall holder and actor/entertaioner support
If you wish to participate in order to disseminate and/or display a craft, the festival can assess whether you can get a discount or support for stand rental. Please then contact the festival organizer before applying.
What does it cost to rent a stall?
RY-bod (image coming later)
2x3m
Fireproof
800 kr.
A-bod
3x3m
Fireproof
900 kr.
NY-bod
3x3m
Fireproof
900 kr.
Grill-bod
3x2m
Fireproof
600 kr.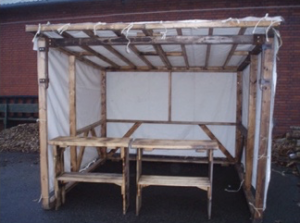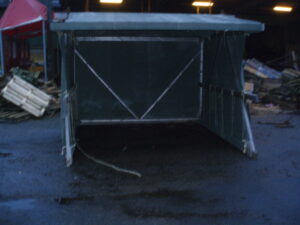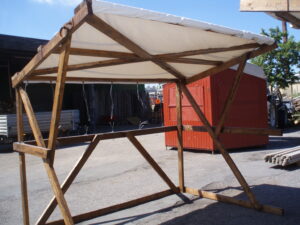 These stalls can be rented using the application forms for stall holders.

The Festival only has a certain number of stalls available, and therefore we cannot guarantee that all applicants can rent a unit. We typically try to prioritise new applicants, to help them start. We will gladly help you with good advice and guidance, if you want to build your own stall.